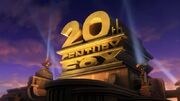 Twentieth Century Fox Film Corporation (known as Twentieth Century-Fox Film Corporation with a hyphen from 1935 until 1985, professionally as 20th Century Fox, Twentieth Century Fox or simply known as Fox) is an American film studio currently owned by 21st Century Fox. It is one of the Big Six major American film studios and is located in the Century City area of Los Angeles, just west of Beverly Hills. The studio was formerly owned by News Corporation.
20th Century Fox is a member of the Motion Picture Association of America.[1] In 2015, 20th Century Fox celebrated its 80th anniversary as a studio.
It will be the distributor of Captain Underpants: The First Epic Movie.
Cite error: <ref> tags exist, but no <references/> tag was found