f.a.r.t.s the book is a photo novel by Dav pilky based on the movie F.A.R.T.S. Dav pilkey did not know how the art should turn out in the book so he decieded he would make a 176 page tribute to the photonovels that Dav read as a child in elementry school to put this into action he went out for . The movie F.A.R.T.S. is based on the book with the same name as the movie!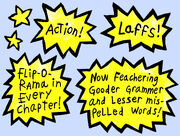 Ad blocker interference detected!
Wikia is a free-to-use site that makes money from advertising. We have a modified experience for viewers using ad blockers

Wikia is not accessible if you've made further modifications. Remove the custom ad blocker rule(s) and the page will load as expected.