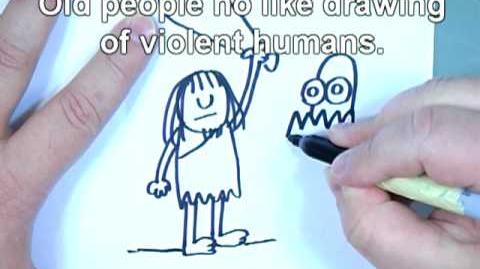 Flip o rama is a chapter featured in every captain underpants adventure.
How it works
Step 1: place your left hand on the dotted lines where it says."left hand here". Hold the book flat. Step 2: grasp the right hand page with your right thumb and index finger. Step 3: now quickly flip the right hand page back and forth until the pictures appear to be animate. For extra fun, ddon't forget your own sound effects.
Trivia
·In captain underpants book seven, instead of saying "don't forget your own sound effects!" on the left page, it said "for extra fun, try humming a stupid song and flip to the beat!". .
·The flip o rama chapters are also known as "the extremely graphic violence chapter" .
Ad blocker interference detected!
Wikia is a free-to-use site that makes money from advertising. We have a modified experience for viewers using ad blockers

Wikia is not accessible if you've made further modifications. Remove the custom ad blocker rule(s) and the page will load as expected.