Super Diaper Baby 2 The Invasion Of The Potty Snatchers
Talk

0
Share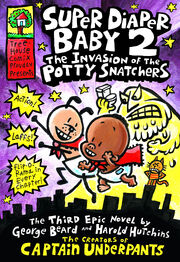 Super Diaper Baby 2 The Invasion Of The Potty Snatchers is a 2011 book written by Dav Pilkey and is the sequel to The Adventures of Super Diaper Baby. It was released on June 28th, 2011. This book is about Super Diaper Baby and Diaper Dog fighting Rip Van Tinkle, a giant man made of pee, and his cat Petey. The book contains 7 chapters (though, technically, it has 8 since it has chapter 4 in 2 parts).
Trivia
Rip van Tinkle was originally supposed to be named Pee-Pee Longstockings (confirmed on Pilkey.com) before he got an official name. Dav made his name Rip van Tinkle due to the fact that the former name would not make sense as Tinkle did not have feet (thus no stockings to put on).
Petey, Tinkle's cat was actually from The Adventures of Dog Man, a Treehouse comic.
The book originally said the second graphic novel, but since Ook and Gluk is the second graphic novel and was released before this book, it became the third graphic novel.
The 2nd part of Chapter. 4 is a parody of How the Grinch Stole Christmas, but excludes the part where the villian sees the error of his ways and returns everything he stole (Rip Van Tinkle felt no remorse from his crime and everyone still peed their pants due to no toilets). This is because George and Harold used Mr. Krupp's copy of the book which had the last 7 pages torn out because he believed the plot sounded more realistic that way. 
On page 36 on top of Billy's bookshelf Robot Guy, Chicken Girl and Cockroach Girl, 3 of the 5 F. A. R. T. S, can be seen. Guy With a Stapler Taped To His Head can be found on a "Coming Soon" poster on a comic shop.
It was thought to have a different cover as seen in the original Super Diaper Baby and Captain Underpants and the preposterous plight of the purple potty people.
On page 78, Rip van Tinkle breaks the 4th wall by saying they're not supposed to talk about poo.
Gallery
Ad blocker interference detected!
Wikia is a free-to-use site that makes money from advertising. We have a modified experience for viewers using ad blockers

Wikia is not accessible if you've made further modifications. Remove the custom ad blocker rule(s) and the page will load as expected.