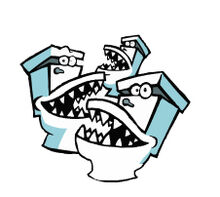 The Talking Toilets, are a gang of orpithetic toilets.
Book 2
The Talking Toilets chased George, Harold, and Captain Underpants.  They find cafeteria food and use it to fight the Talking Toilets. The whole process repeated itself, 'til every last toilet swallowed at least 2 servings of Creamed-Chipped-Beef, then they upchucked everything they had eaten during the day. The underwear, the Creamed-Chipped-Beef, even the teachers came out without a scratch. Later, the Incredible Robo-Plunger, had defeated the evil Turbo Toilet 2000.
Book 7
The Talking Toilets, along with the TT 2000 and the Incredible Robo-Plunger, were seen on the POOPSIE spaceship's monitor.
Ad blocker interference detected!
Wikia is a free-to-use site that makes money from advertising. We have a modified experience for viewers using ad blockers

Wikia is not accessible if you've made further modifications. Remove the custom ad blocker rule(s) and the page will load as expected.