The Adventures of Ook and Gluk Jr.: Kung-Fu Cavekids in Outer Space
Talk

0
Share
This book was a scrapped idea, to be the 4th epic novel by George and Harold. Similar to Super Diaper Baby 2: Invasion of the Potty Snatchers, a preview of Ook and Gluk Jr can be seen at the end of the first Ook and Gluk.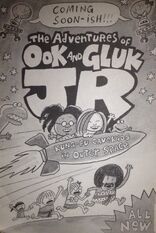 Plot
It was going to be about Ook and Gluk's two sons that venture into outer space with a rocket ship.
Characters
Ook junior
Gluk junior
Ook
Gluk
Lily
Aliens
Lan
Gak
Mog-Mog
Ad blocker interference detected!
Wikia is a free-to-use site that makes money from advertising. We have a modified experience for viewers using ad blockers

Wikia is not accessible if you've made further modifications. Remove the custom ad blocker rule(s) and the page will load as expected.