The Epic Tales of Captain Underpants is an American animated superhero comedy web television series produced by DreamWorks Animation that is based on the film Captain Underpants: The First Epic Movie, in turn based on the Captain Underpants series of books by Dav Pilkey.[1]
Taking place after the film, the series will continue the adventures of pranksters and comic book artists
George Beard
and
Harold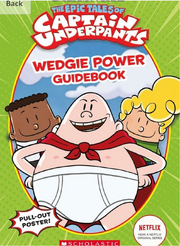 Hutchins
, and their creation of
Captain Underpants
.
The series premiered on Netflix on July 13.[2]
Synopsis
Voice cast
Featured voices
Additional voices
Episodes
Season 1 (2018)
Gags
School sign gag
Alien toenail fries
I sat in Flan
Large fart noise
I see Trolls again
Nostril Airlines
Eat green loaf
Sat in granola
Sir ogre feet
I eat rox
Rent nose gas
I get nose fleas
Nine gorilla farts
Ant groans
 ???-O-Rama
The Original Flip-O-Rama
Laser Light-Sho-Rama
Workbook-O-Rama
Pamphlet-O-Rama(unknown)
Stall-O-rama
Paint-O-Rama
Cheap-O-Rama
Her-O-Rama
Foot Fight-O-Rama
Memory match-O-Rama
Shop-O-Rama
Gas-O-Rama
Vide-O-rama
"And first they made him dance!"
Mr.Krupp makes farting noises with his arm
Mr.Krupp makes farting noises with his other arm
Gallery
Videos
Trivia
George and Harold are voiced by kids instead of adults so that their voices will sound more like pre-pubescent children instead of teenagers. Melvin, however, remained unchanged to show his higher development rate.
In the theme song, every episode has a different dance move for Mr. Krupp when George and Harold say "And first they made him dance!".
All the episodes are treated like books, as they get chapters.
Nat Faxon deferenciates Captain Underpants and Krupp in voice as well as personality. Krupp's voice was more higher pitched and hoarse, while Captain Underpants had a deeper and bolder voice.
This show gave three new facts about Melvin:

He could create complex inventions, even as a baby!
He has a bad sense of humor, finding unfunny things like misplaced carbon rods and rotting fruit to be hilarious.
He became a cyborg sometime in the future and headed back to the present disguised as the school superintendent, Dr. Vil Endenemys to fix his life, which begins to unfold in the finale as in it, Krupp is fired and George and Harold are expelled, prologing season 2.
References
External links